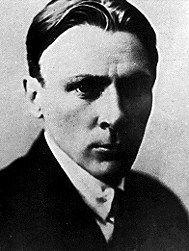 Bulgakov, Mikhail Afanasievich. Born on 3 May (15 May, new style) 1891 in Kiev, the eldest son of a professor at the Kiev Theological Academy. He had two brothers and four sisters. From 1901 to 1909 he attended Aleksandrovsky High School and enjoyed the theater. His father died in 1907. In 1909 he enrolled at the Medical School of Kiev University. In 1913 he married Tatiana Lappa. After graduating from medical school in 1913, he moved to the village of Nikolskoe and later to Vyazam for his obligatory medical service. He returned to Kiev in February 1918 and opened a private medical practice at his home. In the confused political situation of revolutionary Ukraine, he was drafted by the Whites as a field doctor and sent to the Caucasus. Toward the end of 1919 he left the military. This was also the year he began writing. He recalls:
"Once in 1919 when I was traveling at night by train I wrote a short story. In the town where the train stopped, I took the story to the publisher of the newspaper, who published the story."
He settled in Vladikavkaz and undertook journalistic work. It was here that he wrote his first plays, Self-Defense and Turbin Brothers, which were staged at the local theater and enjoyed considerable success. Beginning in May 1921 he began moving around, looking for a job in Tbilisi, Batum, again in Kiev, then finally landing up in Moscow.

Bulgakov wrote humorous sketches and feuilletons for various papers, most notably Gudok and Krasnaya Panorama. In 1922 he became associated with the Berlin-based Russian paper Nakanune. Many of his early works are semi-autobiographical such as The Extraordinary Adventures of a Doctor (1922), Notes on the Cuffs (1922-23) and Notes of a Young Country Doctor (1926-27)

In 1924 his first marraige ended and he married Lyubov Belozersky. This was also the year of his novel White Guard, which concerns the fate of Russian intellectuals and officers of the tsarist army during the civil war in Ukraine in December 1918 and early 1919. Bulgakov's second marriage ended in 1932 and he married a third time to Elena Shilovsky. Between 1924 and 1926 Bulgakov published two collections of short, satirical stories, Diaboliad and A Treatise on Housing. Two noveletes, The Fatal Eggs (1924) and Heart of a Dog (1925) are concerned with the fate of a scientist and the misuse of his discovery, a theme which appears again in the play Adam and Eve (1931). He also authored The Adventures of Chichikov, in which the hero of Gogol's "Dead Souls" arrives in the middle of the Soviet Union of the New Economic Plan (NEP) years.

On 5 October 1926, the Moscow Art Theater premeried Bulgakov's play The Days of the Turbins, which was an adaptation of his novel The White Guard. The play Flight (1927) was rehearsed but never staged in Bulgakov's lifetime, since officials decided that it glorified emigration and White generals. He had two other theatrical success during this period, Zoika's Apartment (1926) and The Crimson Island (1928). However, press reaction to Bulgakov's work was generally hostile. As Bulgakov himself noted:
"When I carried out an analysis of my album of cuttings, I discovered that there had been 301 references to me in the Soviet press during my ten years of work in the field of literature. Of these, three were complimentary and 298 were hostile and abusive."
One reviewer in "The Life Of Art", Number 44, 1927, suggested that they should take Bulgakov and "just bash him over the head with a basin" and that Soviet citizens have no more need of Bulgakov's work "than a dog needs a brassiere."

All of Bulgakov's plays were banned in 1929. In 1930, he wrote a letter to the Soviet government, requesting permission to go abroad. Instead, he received a personal telephone call from Stalin and was sent back to work at the Moscow Art Theater, adapting Gogol's "Dead Souls", which opened in November 1932.

Bulgakov turned to the theme of a writer struggling for independence in several works: the plays A Cabal of Hypocrites (1930) and Aleksandr Pushkin, later renamed The Last Days (1935), and the novel Life of Monsieur de Moliere (1933). The novel was rejected for publication, and A Cabal of Hypocrites, which premiered on 15 February 1936, was reviewed negatively in Pravda and canceled after seven performances. Productions of Aleksandr Pushkin, the fantastic comedy Ivan Vasilievich, and Don Quixote were also canceled.

Bulgakov's A Theatrical Novel (1937), describes some of his experiences in the Moscow Art Theater and takes a jab at Stanislavsky.

In 1936 he went to work for the Bolshoi Opera Theater as a librettist. He attempted to return to the stage with a play called Batum (1939), about the revolutionary years of Joseph Stalin, but it was banned before rehearsals began.

He began work on his most famous novel, The Master and Margarita, in 1928 and did the last editing on it two weeks before his death. The action of the novel plays out on three different levels. First level: Historical narrative set in Jerusalem where Pontius Pilate condemns Yeshua, a man he knows to be innocent; Second level: Set in contemporary Moscow where the Master has written a novel about Pilate; and Third level: fantanstic level where the devil and his retinue step into Moscow to do some good.

Bulgakov died on 10 March 1940 and was buried at the Novodevichye Cemetery.

References: Bulgakov's Letter to the Soviet Government
Terras, Victor. "Handbook of Russian Literature", Yale University Press, 1985.